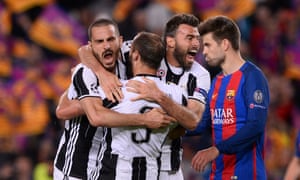 This was his last Champions League game as Barcelona coach and the first time he had seen them fail to win at Camp Nou, meaning Juventus will be in the semi-finals instead. They had deserved it, Luis Enrique conceded after the Italians went through 3-0 on aggregate with a 0-0 draw here.
The Barça coach had talked about making their opponents nervous, but that never happened. Watching them, you wondered if they ever worry. "Psychologically, we never wavered," Max Allegri, the Juventus coach, said and therein lay one huge difference with PSG. Andrés Iniesta had spoken about the need to take the game into a place where the comeback at least became possible but Barcelona never got there. Juventus simply would not let them. Neymar left in tears, embraced by Dani Alves, who then joined his Juve team-mates saluting their supporters.
It is 21 years since Juventus won the European Cup and they must be considered contenders. "We're in the semi-final but it's not over yet," Allegri said. His side is one of real assurance that felt in control and has variety: here they defended, at home they had attacked. When Barcelona did have opportunities, they could not take them.
"We weren't worried, except for one shot," Allegri added. Of the 17 Barcelona took, most were inoffensive, and only one was on target. Lionel Messi took that and six more. With two in particular, he might have expected to score, one in each half, but he departed with a black eye and no goals.
Luis Enrique had vowed to "attack, attack, attack, and then when it is time to rest, attack and attack". The problem was that Juventus do not mind having to defend, defend, defend, and then defend some more. They do it so well and have conceded only two goals in this season's competition. After an opening 15 minutes in which they stepped up, Gonzalo Higuaín getting the game's first chance, they settled in.
Barcelona pressed and passed, Messi dropping deep to start moves. Usually, he looked left, where Neymar ran at Juventus and Jordi Alba overlapped. A neat clipped ball from Messi almost found him as he skidded for the ball four yards out. Had his boots been a size bigger, Alba might have got there. Luis Suárez had a shot blocked and then Messi controlled a pass just inside the penalty area and, with Giorgio Chiellini rushing out to him, pulled his shot past the post.
The momentum built. Gianluigi Buffon saved from Messi, who slammed the rebound into the side-netting. Suárez skewed wide. If the chances were not always clear-cut – Messi's apart – they were growing in number; by half-time Barcelona had taken nine shots, and the ball had been theirs 63% of the time. Juventus broke when they could, Higuaín sliding in to connect with a low volley from close range.
Half-time was a watershed. Emotionally, Barcelona had needed a goal by then and the countdown began, the clock running away from them. Juventus stood firm and Barça's energy was likely to drop. This was always going to be harder than against PSG: Chiellini and Leonardo Bonucci are no easy pair to pass in defence, even when midfielders Sami Khedira and Miralem Pjanic could be overcome, which was not often. Behind them was Buffon, who Messi has never scored against.
The truth, though, was that while shots arrived, they rarely troubled the veteran goalkeeper. At the other end, Juan Cuadrado went close at the near post. So often Juventus's outlet, he had already fired one warning; this was another.
Messi curled a low shot beyond the far post and a high free-kick over the bar, then put a right-footed volley over – the best opportunity and the last time there was a glimmer of hope. Even Javier Mascherano tried, late on, but there was no real sense of desperation, no collective hysteria and no anticipation.
With two minutes to go Barcelona chased the fourth official appealing for a penalty, but the protest was in vain. The previous 90 minutes had been, too. They had needed three goals and couldn't get one – not here and not in Turin. Finding a way past Juventus proved an impossible task that Real Madrid, Atlético Madrid and Monaco will not relish. (The Guardian UK)