The United States surpassed 11 million coronavirus cases on Sunday, according to data from Johns Hopkins University, as states across the country moved to enact restrictions aimed at slowing the spread of the virus.
The latest milestone comes less than a week after the US recorded 10 million cases, per Johns Hopkins data. It was the fastest the US has added one million new cases since the pandemic began.
At least 45 states have reported more new infections this past week compared to the previous week, according to Johns Hopkins University.
"We have this firestorm of coronavirus all across the country," emergency medicine physician Dr. Leana Wen said. "It's not one or two hotspots, the entire country is a hotspot of coronavirus infection."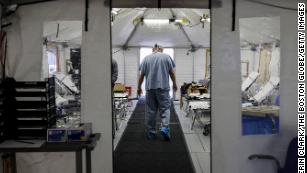 Even Wyoming is getting hit hard. On Saturday, the state set new records for Covid-19 hospitalizations and deaths, with 202 hospitalizations and 17 new deaths reported in one day.
Nationwide, more than 246,000 people have died — including 1,266 new deaths reported on Saturday alone.
And while some officials toughen their restrictions, some say changing behavior is more important than shutting down.
'Don't share your air, and don't do stupid things'
If everyone took precautions and stopped assuming their friends aren't infected, the results could be more effective than a lockdown, Los Angeles Mayor Eric Garcetti said. These charts show how serious this fall's Covid-19 surge is
"The good thing about where we are now is we're smarter than we were in March. We understand that this blanket kind of lockdown, which did the trick then, may not be the best way now," he said.
"It's not about whether a store is open or not. It's about your and my behavior. It's about whether we think, 'Oh, I know that person, so I'm familiar with them. I can hang out with them … Those things are what's causing the spread."
So if people don't like shutdowns, the solutions are simple: "Cancel those vacation plans right now. Do not sneak in other households for Thanksgiving," Garcetti said.
"To me, the mantra is two things: Don't share your air, and don't do stupid things."