MUMBAI -India's new COVID-19 cases stayed above 300,000 for a sixth consecutive day on Tuesday (Apr 27), while its armed forces pledged urgent medical aid to help battle the staggering spike in infections.
Over the past 24 hours, India recorded 323,144 new cases, below Monday's worldwide peak of 352,991, with overrun hospitals continuing to turn away patients due to a shortage of beds and oxygen supplies.
It reported 2,771 new deaths, but health experts believe the tally runs significantly higher.
"Please note that a huge fall in daily cases … is largely due to a heavy fall in testing. This should not be taken as an indication of falling cases, rather a matter of missing out on too many positive cases!" Rijo M John, a professor and health economist at the Indian Institute of Management in the southern state of Kerala, said in a post on Twitter.
Several countries, including Thailand, Singapore, Bangladesh and Britain, have taken steps to curb travel from India to prevent more virulent virus variants from entering their borders. Australia is set to consider a proposal to suspend flights from India later in the day.
The situation in the world's second-most populous country is "beyond heartbreaking", World Health Organization chief Tedros Adhanom Ghebreyesus said.
India has called on its armed forces to help tackle the devastating crisis. Chief of Defence Staff General Bipin Rawat said late on Monday that oxygen would be released from armed forces reserves and retired medical personnel would join health facilities that are struggling under the strain of cases.
Nations including Britain, Germany, and the United States have pledged urgent medical aid, while Indian Americans in U.S. Congress and the technology sector have also joined forces to boost aid.
The United States has said it will share 60 million doses of AstraZeneca's COVID-19 vaccine with other countries.
"Major lobbying is on at this point of time to secure as much as possible for India," a senior Indian official part of ongoing negotiations told Reuters, adding that Prime Minister Narendra Modi had been assured that India would be given priority.
"At this juncture even harshest critics of India are pushing the US regime" to aid India, the official added.
Train carriages have become medical wards
In a bid to tackle the shortage of beds, Indian authorities are turning to train carriages, which have been converted into isolation wards.
About 4,000 Indian Railways coaches, adapted in March 2020, are being brought back into use to to help treat Covid patients with mild to moderate symptoms.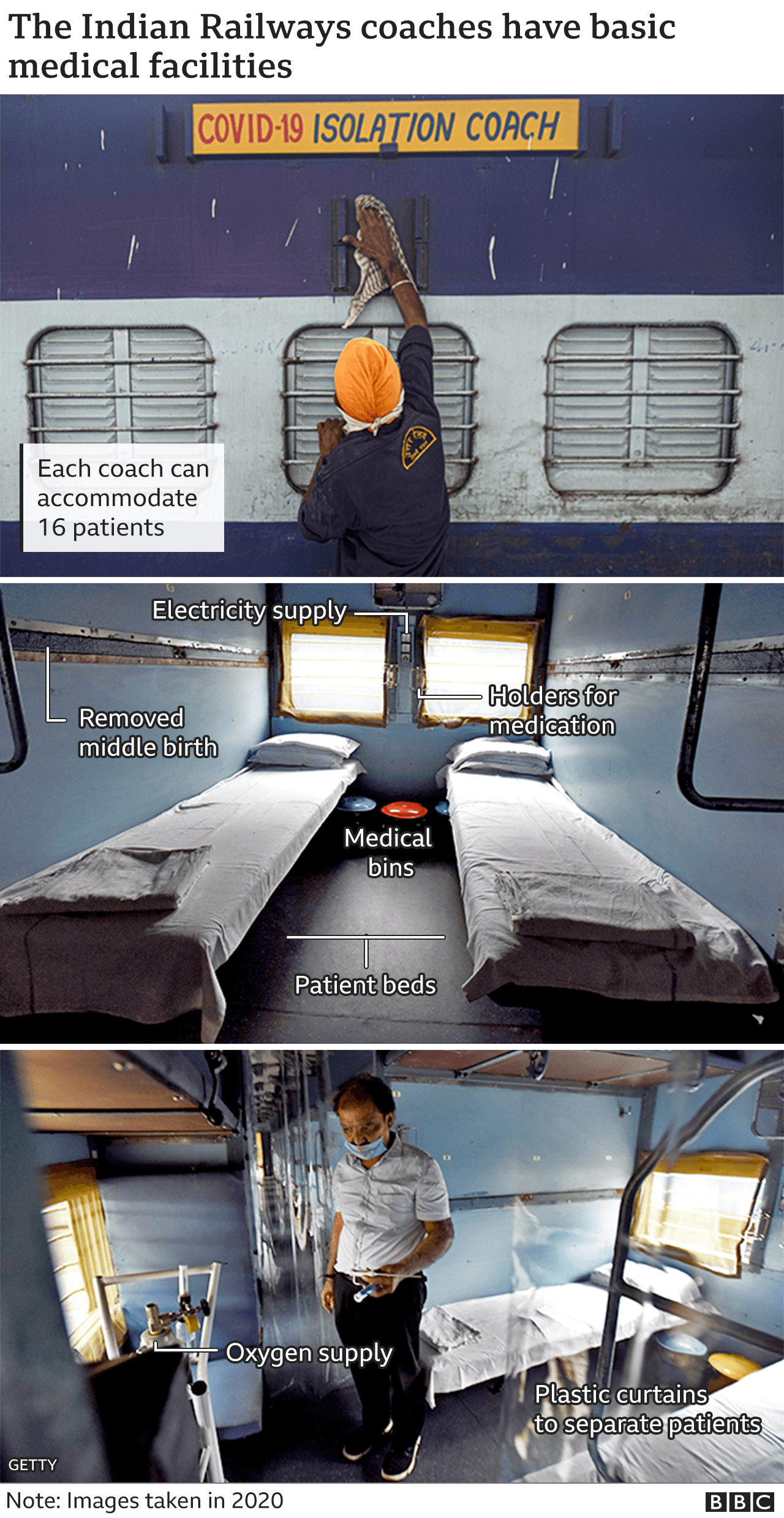 The facilities, which were not needed last year when strict lockdown measures saw cases decline, were able to provide an additional 64,000 temporary beds, Gopal Agarwal, a spokesman for Prime Minister Narendra Modi's Bharatiya Janata Party, told the BBC.
The trains, which can be driven to stations in cities and towns where required, have beds for patients, bathrooms, power points for medical equipment and oxygen supplies.
Indian Railways already has experience of running hospitals on trains. The Lifeline Express, launched in 1991, travels round the country providing diagnostic, medical and surgical treatment to patients.
Sports halls and stadiums have become hospitals
Sports halls, stadiums and ashrams have also been converted into make-shift treatment centres to ease the pressure on hospitals.
Venus like Bangalore's Koramangala Indoor Stadium, the Indira Gandhi Athletic Stadium, in Guwahati, and Delhi's Radha Soami Satsang Beas campus have been converted into quarantine centres.
Some of the beds being used are made from cardboard.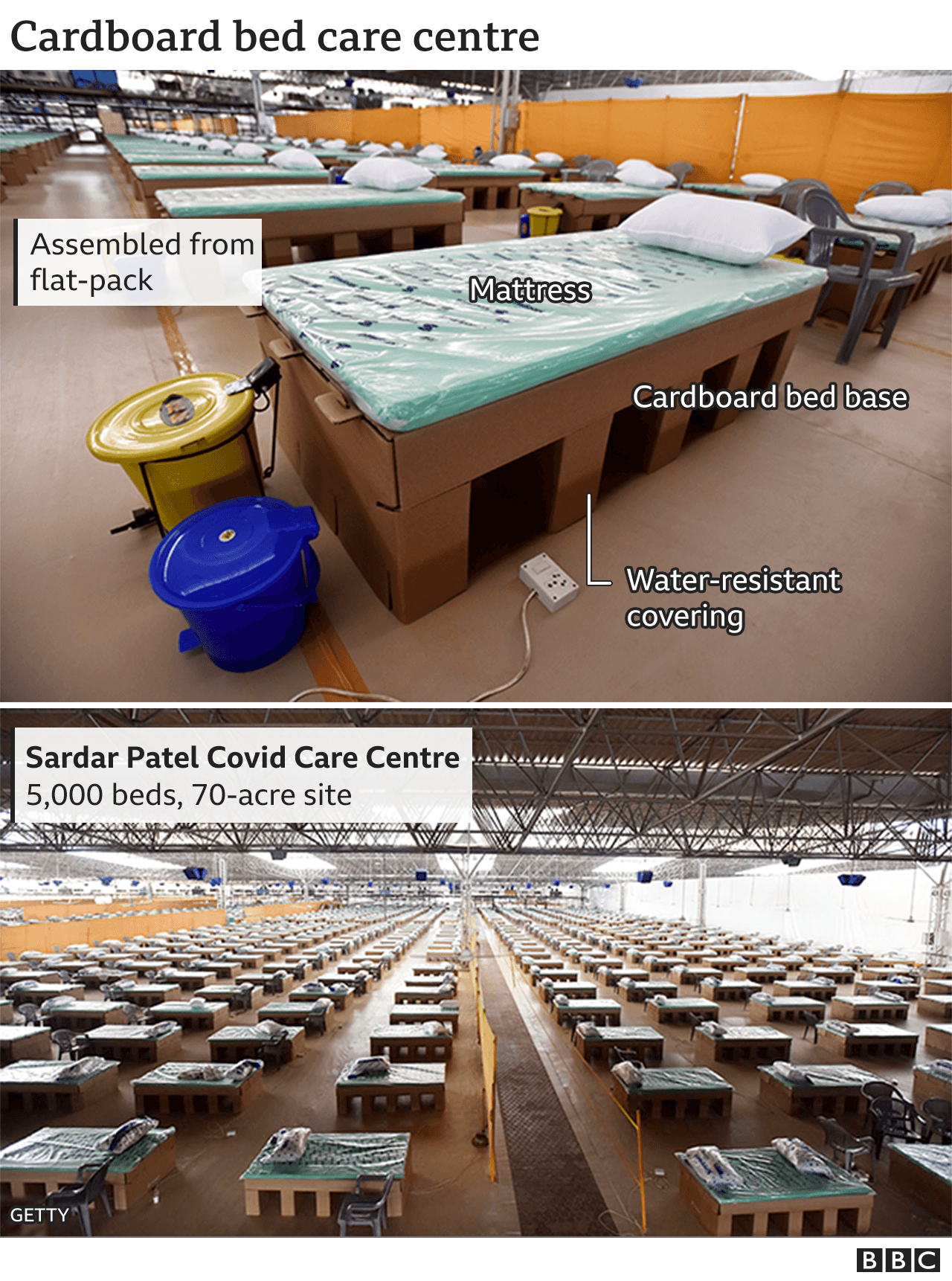 During a surge in cases last year, the Delhi campus belonging to the Radha Soami Satsang Beas organisation was transformed into the 10,000-bed Sardar Patel Covid Care Centre, with 1,000 "oxygen-supported" beds. It treated more than 11,000 people before it closed in February.
This time the centre – which is the size of 20 football fields – is expected to start with about 2,500 beds, increasing to 5,000.
Aryan Paper, which makes the cardboard bed bases being used, says the emergency beds are made from high-strength corrugated board.
They are particularly useful in the current crisis because they are cheap, recyclable, can be flatpacked for easy transportation and assembled in five minutes.